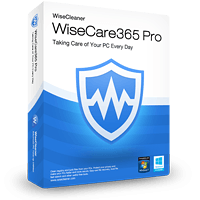 Wise Care 365 PRO is a top-rated program that has multiple privacy, registry, disk, and other system utilities and features for you to use to manage, speed up, clean, and protect your PC. You can even make the program portable and run it from a USB flash drive on any computer without installation.
Review by

Dennis Nelson
Our computers gather junk from daily use. This bogs them down making them comparatively slower. Since I am a performance perfectionist, I spent up to 4 hours in a week getting read of this junk and optimizing my machine to keep it at its best. You can imagine how mundane and tiresome these tasks might be. Wise Care 365 promises to take over these tasks while bringing on board a whole load of utilities that will make my life even better.
I installed my copy and went ahead with the test paces. Here is what I found out.
The utility panel is impressive
The first thing you will see to your right is the utility panel. This gives you access to a wide range of options, from scheduled shutdown to data recovery and password generation. The true power of this section will not only keep your system functioning optimally but also give you utilities that put you in charge of your PC. This was love at first sight for me.
A comprehensive PC checkup that works
The PC checkup section calculates a health index based on the a number of parameters. These could be useless files, invalid registries or privacy risks. A quick fix button at the very top lets you set things right and improve your score. Use the fix option with caution. Some of the things thought of as useless or invalid could actually be useful to you. Go through each result and ignore what you deem useful to leave it in the system once you do the fix.
A Comprehensive cleaner utility
Broken registries can mess up with your apps and system. Huge files are more often than not useless space hogs. I found the cleaner utility quite the jewel when it came to identifying and dealing with such.
System tuneup
The system tuneup utility focuses on optimizing different aspects of your machine and make it faster. I either didn't understand or bother to understand the long list of optimizables. But I am confident that you will find something in there that will make your system faster. If you don't have the time, you can just go with the general optimize button and pray that everything goes well.
The downs
A flimsy registry and system backup
Finally, if you feel that you might have to restore your system at some point in time, you can use Wise Care 365 to create a restore point. I didn't fancy this backup-restore option as it isn't what you really would expect if you are used to Windows innate system restore.
I really don't know what to think of the assistance tab
The assistance tab launches a browser like interface full of questions, categories and a login option. I really don't know it will help me optimize my machine. I will pretend it doesn't exist.
Verdict
Wise Care 365 is impressive. It has all the options you will ever need to optimize your system no matter how hard you push it. The additional utilities make it an all round tool that will save you a whole lot of pain and activity if you are an ardent PC user as I am. Grab your copy today and discover away.
Review by MELVIN SYNC
Have you ever wondered why your computer becomes slow over time? The reason is the accumulation of unwanted and useless files. You can implement a manual approach in getting rid of the same. However, opting for a specialized software will present efficiency. Based on that idea, I settled on Wise Care 365 PRO while searching for a PC tune-up software. Here is what I noted about the program after taking it through the paces.
Wise Care 365 PRO at a glance
This giveaway has built-in registration, which simplifies its installation process. On first launch, the main window will present you will a number of options and features. At the same time, the bottom section of this window displays a handy report on previous checkups. My first time exploring the option felt intuitive and I was impressed by the clean arrangement.
Pros
Utility features that work
The main window of Wise Care 365 PRO while you are under PC Checkup has the right sidebar with a nice collection of utilities. To start with, the updated version of this giveaway packs additional utilities that its preceding version did not have. The additions include Data Recovery, Auto Shutdown, Force Deleter, Memory Optimizer, and Fast Search. One click is enough to launch these utilities.
For instance, the Program Uninstaller launches a new pop up window displaying all installed applications and their total size. Further, this feature lets you choose from different options regarding uninstalling or modifying an installed program.
You can search for any file on your computer and get quick results thanks to the Fast Search utility. After launching this utility, it will let you search for any file even hidden ones. Even after closing its main window, the utility has a dock-like search at the top right side your PC's screen.
Intuitive and easy to use
Using this optimizing program feels smooth and intuitive. Despite its large collection of system optimizing and tune-up features, their arrangement is efficient. As such, navigating through these options is easy as you access specific functions. The main options are in tabs as their sub-options are either on the left or right side pane.
Easily get rid of big files
Few weeks into using a new machine, you might note the free space on the disks shrinking. The best way to free up space is by deleting large and less useful files. Manually checking through the sizes of each file is cumbersome. In turn, take advantage of the Big Files Manager under System Cleaner to identify large files that you can delete.
Cons
Laggy utility launching
It is great that accessing any of the utilities that this optimizer offers only requires a single click. However, you will easily notice a lag between the time you click on a utility and its window popping up.
Verdict
Wise Care 365 PRO boosts of a wide range of features, utilities and additional options. These features are easy to use in optimizing your system. Given the large number of the features, it might take you quite a while to fully utilize all the features. Despite that, this program is a decent package worth trying.