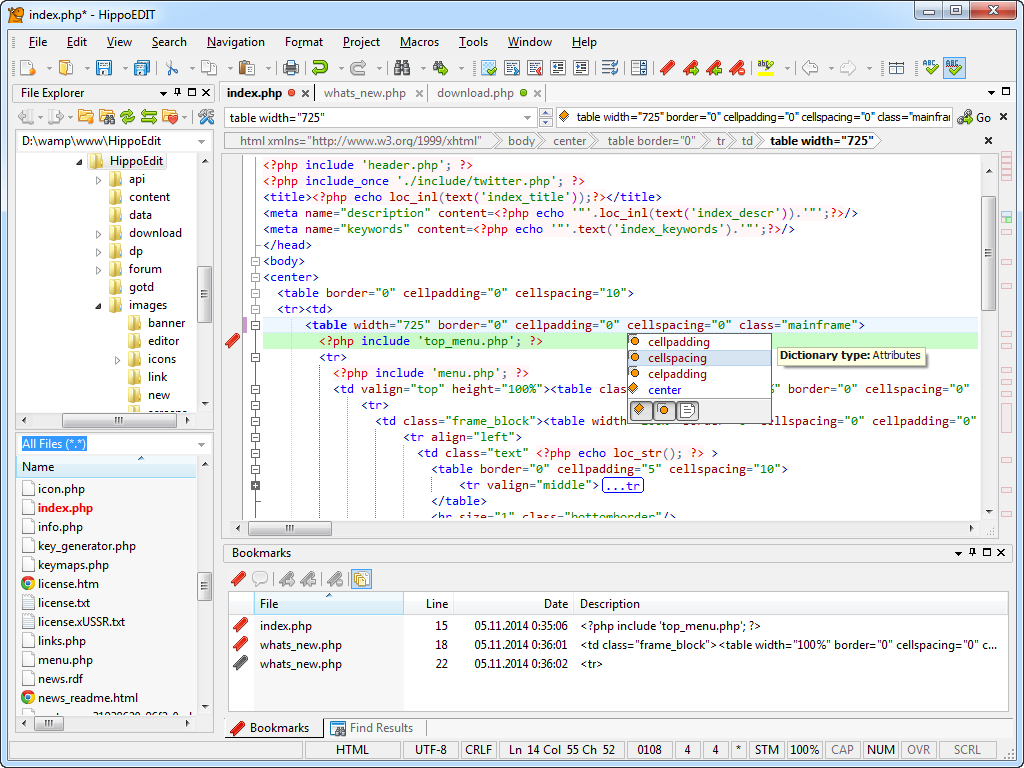 HippoEDIT is Windows text editor for programmers and power users. One can use it as full featured IDE with the support of projects, external tools, and auto-completion, or as simple source code viewer for web browsers and shell. With HippoEDIT, you can open large log files, view and edit Unicode texts, open files in different encoding and line break styles.
The editor has syntax highlighting and code outlining support for many programming languages, plugins extending the editor with new functionality (FTP Explorer, File Explorer, Spell Checker, Emmet and JS Beautifier, HTML Tools, XML Pretty Print, Live Colors etc.) and color schemes.
HippoEDIT has many unique features that you will not find in other editors, which may speed up and simplify your work. Such as Hierarchy and Navigation bar, Colored Braces and Guides, inline color and image previewers, Intelligent Smart Highlight, Code Hints, Fuzzy search, User Text Highlighting, Multi-Clipboard, and Workspaces etc.
Review by Dennis Nelson
HippoEdit is supposed to be a complete text editor to help you write new code or meddle with what other people have already done in style. I must say it does this might fine at first glance. There are a couple of things it does very well. Things that give it precedence over most text editors in the market. Here is what I loved (or hated) after using HippoEdit for a while.
Cons
Robust Mistake handling and Syntax highlighting
The mistake-handling module is based on multiple level undo and redo that lets you roll back or forward until you recover from the mistake. The syntax highlighting, on the other hand converts HippoEdit from a mere text editor to a powerful IDE that understands and takes you through all the necessary syntax for most of the main programming languages.
Downloadable plugins for extra languages
With the developers letting you upgrade or include support for new languages by using mere plugins, you can rest assured that HippoEdit will be by your side even as the programming languages change and develop.
Robust file management
By taking its capabilities beyond mere file editing and giving you the power to deal with a complete directory, HippoEdit puts you at the very center of the project and lets you manage the entire file structure and directories from one place.
Inbuilt browser and FTP client
The inbuilt browser and FTP client take it to the next level. You can preview your web design code and edits from the inbuilt browser or upload changes straight to a server without the need for another FTP client. How neat.
Cons
• The language plugin isn't complete. You might not get support for all the programming languages
• The additional features could be a bit overwhelming to a newbie
Verdict
HippoEdit is a professional code editing tool that will give you everything you need to be a productive programmer. It is lightweight and you can even install it on a USB drive for portability. It is a better iteration to Notepad ++ to those who want to do more.
Review by Father Richard
For those of you that wonder if this editor has "Python" plug ins, it does. It is a little harder than they make it sound, but the automatic download and install does work, and well if you know how. The easiest way to expand this program I could find works this way. 1.) Place a file with a .py (or any other plug in type you are trying to install) on your desktop and then, 2.)from the "Update of SharewareOnSale special edition" splash page, click on the "Project" menu item, 3.) then scroll down to "Add ->", then, 4.)from the list that pops up to the right, click "New File";5.) then, on the pop up window, change the "Save as type:" bar at the center bottom by clicking the drop down arrow on the bars right side, 6.) then click the last drop down type "All files (*.*)" [to show your chosen file type you placed on your desk top when we get there]; 7.) then click the "Desktop" icon (2nd down from the top in the left most panel); 8.) then navigate down to your file and 9.) left click once on it; 10.) then click the highlighted "save" button lower right. See, automatic with only 10 easy steps. It is amazing that all the rest is automatic. I would have been more impressed if there had been a drop down option, maybe under "tools" that would list available plug ins (or maybe taken you to a web page with installable plug ins listed for download) but I am still impressed that the program DID install the needed components once I figured out how to ask it to. Very impressive program so far. I hope the above information helps those considering trying this program for a non-listed language to download, install, and try a file in their chosen language to see if this program supports it. It does support Python.